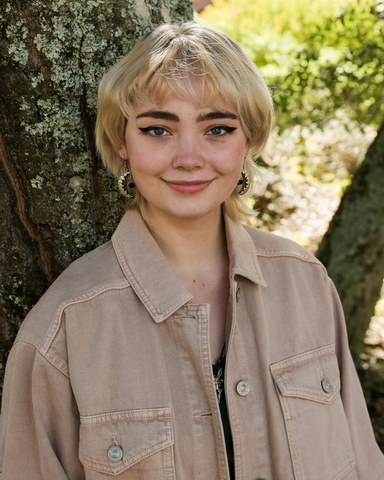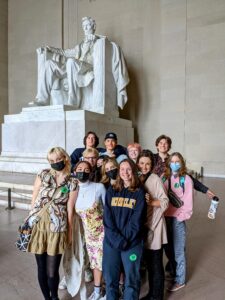 Yesterday evening our plane landed in DC. My classmates and I watched with awe as we flew near the White House, the Capitol, and the monuments we researched in preparation for the trip. Despite being exhausted after waking up at 2 A.M. to make it to the airport, there was a quality of newness and excitement in our energy.
A party van of sorts – decked out with loud speakers and lights – picked us up from the airport to take us to the hostel where we are staying. On the ride we were able to appreciate the architecture and beauty of the city at sunset. We're staying at the Friends Place on Capitol Hill, which has been a Quaker guest house for over 50 years. It was named the William Penn House until the name was changed in 2020 in recognition of his enslavement of African Americans.
This morning we went on a tour of African-American history, starting at the Capitol and stopping at various monuments and sites such as the Washington Monument, the White House, the Lincoln Memorial, the African American Civil War Memorial, the MLK Memorial, and Howard University. Our tour guide, Jamal, was extremely knowledgeable and excited about history, which made him amazing to listen to.
We stopped at Lincoln Park to see the Emancipation Memorial, a sculpture of Abraham Lincoln holding the Emancipation Proclamation, standing over a newly freed slave who is kneeling and shackled, looking up at him. This sculpture was mentioned in "The New Jim Crow", a book that we recently read in class, so seeing it in person was really interesting. Jamal shared what Frederick Douglass said about monuments, that "no one monument could be made to tell the whole truth," and that the monument's creator was a confederate sympathizer. The monument was disturbing to look at, and my peers and I questioned why it's still standing. We've spent some time in class discussing why we have monuments and how they reflect our values, so it's interesting that we keep a sculpture that makes so many people uncomfortable. It exists on the line between acknowledging our country's history and celebrating Lincoln's power over the African Americans he emancipated.
The tour really contextualized the trip, as we learned the layout and history of the city where we'll spend the next week. There were times when Jamal would point out places where political figures had spent time, or tell us stories about important events that occurred right down the street. Just about every part of DC has countless stories to learn, which makes me excited for the rest of the trip. Now that we've learned about the general layout and history of the physical aspect of this place, I'm looking forward to learning about the lives of the people here.
---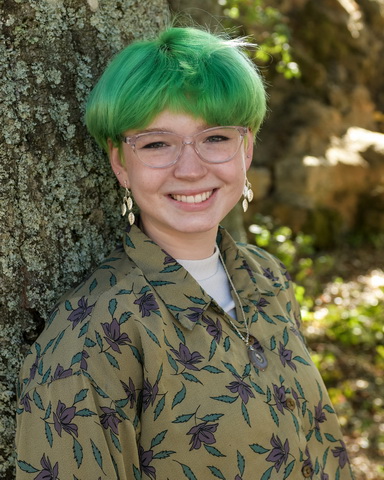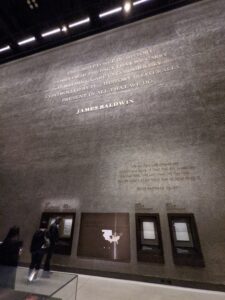 Today's activity, an African American history tour around DC, closed with a trip to the National Museum of African American History and Culture. On the fourth floor we found an exhibition titled "Reckoning: Protest. Defiance. Resilience," which looks at, "ways in which visual art has long provided its own protest, commentary, escape and perspective for African Americans." I discovered a couple years ago that I love art museums: being able to look at beautiful things made by people I have not and never will meet and pieces destined to be seen by thousands of others I'll never know. Museums offer a unique shared experience that I think is wonderful.
Although all the artworks were amazing, three caught my eye. The first included thirteen pieces from Rashaun Rucker's 2020 "Psychological Redlining" series, in which Rucker merges portraits of Black men with images of rock pigeons, which are generally viewed as urban nuisances, to highlight the fact that Black men are often thought of in the same way. Around each of these bird-human hybrid portraits is a red cage, which represents redlining, a systematic real estate practice in which red lines are drawn around communities of color on maps to limit access to home loans, insurance, and even grocery stores. I was initially drawn to this piece because of my fondness for surrealism, but the explanation behind the symbolism is equally as striking as the visuals.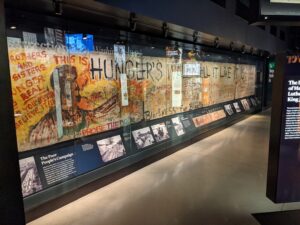 The second installation to captivate me was "Confrontation 28A and 28B" (1966), by Merton Daniel Simpson, who said about his Confrontation series: "I'm painting what I think I see: ugly people fighting ugly people …I see wrongness on either side. I just think that it's an ugly thing. I want to paint it like that. And I think if people can see it, and frown upon it enough, it might make them think, 'Am I really a part of this? Then I should want to do something about it.'" I'm not really sure how to explain the visuals of this diptych, so I strongly recommend looking it up to get the full effect. It takes a while, especially in person, to decipher what you're looking at, and I think this is what drew my attention. It was something I had to look at longer to figure out, so I kept looking, as I'm not the type to be satisfied with not knowing something I could learn given a little effort.
The third installation that held my attention was "Rodney King, Before BLM," (2017) by Shaun Leonardo. This charcoal piece depicts a blurred still from the video of Rodney King's beating by police officers in 1991. This piece is meant to be seen in person rather than online or on paper. There is a mirrored tint to the frame, so not only is it difficult to look past the reflection and glare to see what is behind it, but you also see yourself projected into the scene. According to the museum placard, the installation "challenges how media selections shape cultural memory and consciousness … [t]he rate by which we are bombarded and distracted by media images reduces life events and history to flashes of select photographs and headlines. Leonardo explored the extent to which we are complicit."
---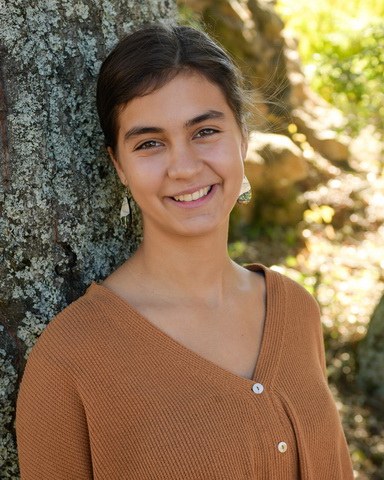 Despite the exhaustion from yesterday's long day of traveling, I was excited for today's adventure because we were going to tour Washington, DC with a focus on African-American history. I was especially excited to visit the National Museum of African American History and Culture, which I have visited before, although I did not have the opportunity to visit all floors of the museum. I couldn't wait to take in everything I could from our tour and enjoy all the old houses in the neighborhoods we traveled through, and I wanted to spot at least a couple of interesting murals—a goal I hope to accomplish each day we are in DC.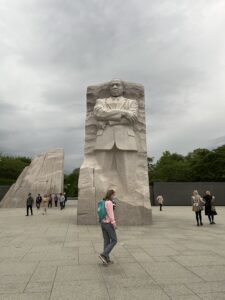 Our tour guide, Jamal, was very charismatic, and I was interested in seeing everything I could from the windows of the bus while listening to all of the stories he had to tell us. In particular, I was excited to hear about important moments that illustrate the extent to which the history of the United States is inescapably tied to slavery. Without Black cultural influence and the wealth accumulated through the institution and legacy of slavery, the U.S. and other countries would be very different places. This reality was apparent in almost every monument that we visited. The stone of the Washington Monument changes color halfway up because it was initially built by enslaved people up until the time slavery was abolished in DC, then resumed later by the Army Corps of Engineers. The Emancipation Memorial, which shows Lincoln holding his hand over a formerly enslaved person kneeling in shackles reflects the white supremacist/ "white savior" ideals that were still prevalent in the country after the Civil War. Even the architecture of buildings like the Capitol or the Washington Monument take inspiration from Greek architecture that adopted its style from Egypt and North Africa.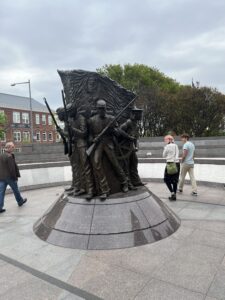 Something that Jamal emphasized that really struck me was the fact that freedom is almost always paid for in war. To the extent that Black people in the U.S. have experienced liberation, they have typically done so through as a result of the experience of war. For example, many Blacks joined the Union cause in the civil war after becoming emancipated while others exchanged their service in the military for freedom. Jamal also explained that the 13th Amendment, which ostensibly abolished slavery, nevertheless still allowed forced labor as punishment for a crime, paving the way for Black Codes, Jim Crow, and the mass incarceration of Black people. In essence, emancipation created another avenue through which Southern states could keep the formerly enslaved under their control, therefore simply transferring ownership. Once again, the freedom from slavery within incarceration could be won through service in war. Many of the monuments we visited that depicted formerly enslaved people still show them in chains—broken or not. As Jamal said, "Liberation is not possible if people are still in chains." In other words, real liberation is not possible when there remain systems in place that are meant to oppress certain groups.
Overall, the rest of the tour was extremely informative, and it put in context a lot of what I have learned about Black history through my own research or in school. I enjoyed being able to drive through the campus of Howard University, a historically Black university that was named after the white man who founded it. I was also able to view a few colorful murals close to the University that I enjoyed. The African American History Museum did not disappoint, and I barely found enough time to make it through all of the floors before we had to head back to the hostel. I was very inspired by an exhibit that displayed the work of Black visual artists with provocative messages that appeared behind the works. My favorite exhibit was one that contained memorabilia from famous musical artists, showing how Black music has evolved and permeated every musical movement in the history of the United States.