Stephenie Foster is the Senior Policy Advisor for the Office of Global Women's Issues at the State Department.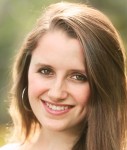 Today we interviewed Stephenie Foster, the Senior Policy Advisor to the U.S. State Department Office of Global Women's Issues. Among many other interesting things, she spoke about the small number of women in elected office. We have talked about this issue in earlier interviews, but Foster did something new and related it to other issues women face today. She spoke about how this issue has affected her and her work.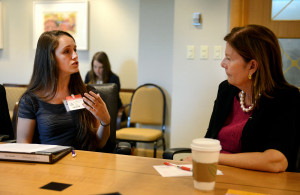 Ms. Foster has done a lot of work in Afghanistan. She emphasized that the media does not always convey the complexity and entirety of what is happening in Afghanistan. Parts of the media tend to focus on what will "sell." This does not mean that news organizations are giving people false information, but that the public is not always getting the full story. Ms. Foster wanted to make sure that we know that many issues are on the path to being resolved. I think that this part of our conversation with Ms. Foster relates to Ray Suarez's statement that often fact trails opinion. She pointed out that change does not happen as fast as we would like it to and often people base their opinions about issues on incomplete information.
Another point that Stephenie Foster made was that to help the government be more effective and helpful, you must figure out how to include as many voices as possible. The more voices included, the more the result will represent the country as a whole. As much as I would like to avoid relating this to Statistics class, it is the law of large numbers. The larger the sample of representatives, the closer to the population statistic the data you collect will be (I hope Dr. Nicole is reading this.) But in all honesty, it is the truth. You are not able to run a country effectively with only a few voices heard. You must listen to, and respect the views of those being governed. More diversity = better decisions.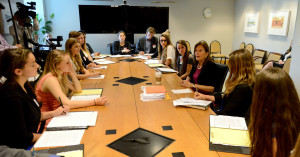 The last point that Ms. Foster addressed was the importance of doing what is important to you. You will be most successful if you are interested in what you are doing, and truly care about it. As Hardin Lang said, "If you are emotional about a topic, turn that around and use it as fuel."
As cheesy as it sounds, you truly do have the power to make a difference, even if you are not on the front cover of Time magazine. We have seen this demonstrated on this trip. There are many people who you would never recognize, you would never hear about, you would never know existed, that make such a huge difference. Find what you care about and pursue it. You never know what could happen.
---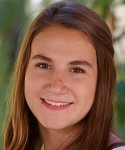 In each interview I have been surprised by how human the people we interview are. Although they are in high positions they are very humble and personable. This was also the case with Stephenie Foster. When she came into the room she had a big presence; not because of power but because of her humanity.
Something she talked about that interested me was the role of the media in our every day lives. She said that the media is powerful and yet very invisible. I thought this was important because I never really understood how the media affected us. I think that shows how invisible the media really is and how much we underestimate the influence it has over us.