Hardin Lang is a Senior Fellow at the Center for American Progress and spent 12 years in the United Nations.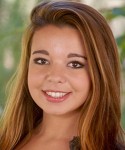 Today we had the wonderful privilege of speaking with Hardin Lang, Senior Fellow at the Center for American Progress and husband of Alyse Nelson, whom we interviewed on May 15th.
Unlike most other interviews, we did not have a series of questions prepared for Hardin Lang. However, Hardin's welcoming presence and openness to answering our questions allowed us to feel very comfortable forming questions on the spot. He started off the interview by telling stories of his time in Afghanistan and Iraq, where he dealt mostly with peace negotiations and issues of human rights. My personal highlight of the interview occurred when a question was asked about preconceived ideas of countries' cultural aspects, such as Afghanistan and Iraq, which have been formed by the press and media over time.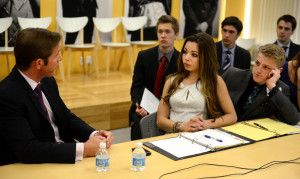 Hardin responded to this question explaining that he does his best to avoid the opinions of the press and that he prefers to keep an open mind as he travels into these new countries. I personally have always believed that while it is very easy to become caught up in the media's portrayal of other cultures, it is incredibly important to maintain an open mind as you are entering these countries, and to know that you cannot truly understand a culture until you have experienced it yourself.
When I asked Hardin how spending time in these countries and having to adjust to their culture has shifted how he views our own country, he explained that the insight he has gained from his travels has allowed him to become more appreciative of the simple privileges that we as Americans often take for granted. He explained that he used to feel upset when he would return to the U.S. and realize how many privileges he had, and how many people there were in the world that he knew would never be able to enjoy the simple luxuries we often overlook. However, the lesson he learned through all of this was that rather than feeling sorry for yourself and for these people, the best thing you can do is to step forward to help them.
His stories reminded me of some of the feelings that my classmates and I had upon our return from South Africa; however, like Hardin, I also realized that the best thing you can do in these situations is to take action on the issues you see as wrong. It is the people who can step forward to make the changes they see necessary who will become the true heroes and great leaders of our country.
With each new interview, I am seeing the profound marks that these leaders are leaving in the world, and each day I am becoming more inspired to discover what kind of changes and marks I can create. Hardin touched upon something that seems to be a reoccurring theme in each of our interviews, which is to pursue your passions. "Find something that you're good at and something that you're passionate about and connect them. Nothing can be more fulfilling." As I will soon be starting my own path of beginning college and exploring career choices, I will remember Hardin's uplifting words of advice and will continue to discover what inspires me to leave my own mark on the world.
---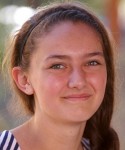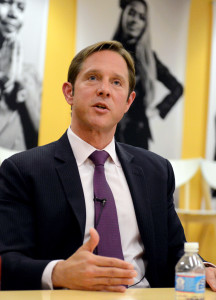 As I boarded the elevator that would take me back down to the bustling world of D.C., I found myself wanting to burst out and retrieve the clear, yet simultaneously deeply complex world that Hardin Lang had created in that little room just down the hall. He struck me as the type of person who can only attempt to convey the profound insight he has gained from his experiences. After every question was asked he stopped and thought for a long moment as if truly forming a complete, informed, and well thought-out answer. His concise yet substantial responses were evidence of the time he took to structure them.
Although I have recently learned the art of quickly writing notes while still maintaining eye contact with the person talking, I found my hand cramping as I struggled to record the steady stream of sentences that held such pointed advice. One sentence in particular struck me: "As soon as it becomes a regular job, you become less effective." As this sentiment was so seamlessly slipped in, I was compelled to look up from my frantic writing in order to truly let it sink in. I had always seen myself finding a fulfilling job and eventually settling into a comfortable position, but upon hearing this I realized that "comfortable" is not what I crave. I want to live a life that renews my passion with each new day and provides me the ability to drive for a new goal as each old one is met. While I want a fulfilling career, I never want to feel "fulfilled" because that is the moment in which I will lose the force to keep pushing for something more.
Some of Lang's parting words were, "You've got these emotions; use them to do something." Sitting here writing, I realize that it is only the people motivated by raw emotion that are able to affect the changes they feel are necessary.
---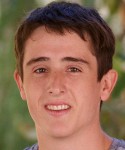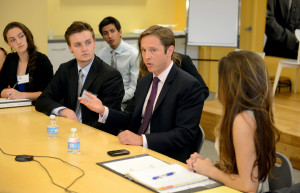 Hardin Lang made sure to answer the question on all of its levels, going into depth on everything. There were two key things that stuck out for me. First, I asked him a question in regards to how his view of the U.S. military had changed or solidified in any way after viewing all the violence that has been going on in the Middle East. To my surprise, he simply praised them. I am used to hearing on the news that the Middle East has done wrong, which always overshadows the good things that happen. Hardin Lang went on to say how quickly they were able to organize themselves in times of chaos and actually get things done and help those out who were in need.
This ties right in to the other thing he talked about that struck me as amazing. He said, "The most important thing (when going into a foreign country) is to empty your head of any preconceptions." This really rang true for me because it made me think back to how when we went to South Africa, we all came with preconceptions and expectations, and of course our preconceptions were wrong, because you can't build a reliable opinion without experience. I believe Hardin Lang taught me a very valuable life lesson today, and I will remember this for years to come. It was an amazing experience, and I am so glad we had the chance to speak with Hardin Lang.