It's still hard to put into words what I have taken away from the experience of traveling to India with my class. I am definitely still processing everything that happened, how I dealt with it, and how I will move forward with what I learned. What I know for sure is that the trip pushed me way past my comfort zone and forced me to see what I am truly capable of.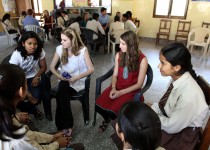 Being sick for the first part of the trip was a bummer to say the least. I felt horrible physically and emotionally. I had to stay back at the YWCA in Delhi, and missed out on the first interview and the first opportunity to go shopping. I felt like I was a burden to have around because I wasn't able to contribute anything. And most of all, it made me feel homesick; I just wanted my mom to take care of me. But not being able to get what I wanted was actually a blessing in disguise. If I hadn't been sick, I wouldn't have discovered that despite my lack of comfort, I made it through and now know that it is okay for things to be hard, and it's okay to be put to the test, and that I can handle it. I had a lot of self-doubt before the trip, but I came home with confidence.
Once I started feeling better physically, the trip really began for me. When we got to the Ashram, it felt like home, and I felt better. I can honestly say that Sri Ram Ashram is the most loving and caring place I have ever been. They have created such a strong family unit and I feel blessed to have spent time there. It broke my heart to have to leave the kids after just four days. I will never forget the look on Kiran's face when she asked me when I would be coming back. The kids there need people who stay in their lives and I want so badly to be that for them. I can't wait to go back, but I don't know when that will be.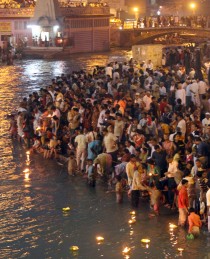 What I loved most about the trip was that everything we did had equal importance. Interviewing the Dalai Lama was an incredible honor and a once in a lifetime opportunity, but even if we hadn't gotten the interview with him, the trip would have been just as great. I don't think I can pick just one favorite moment of the trip, but one that had a lot of significance for me was going to Aarti at Hari ki Pari. I have never felt like a religious person. I would mostly call myself spiritual, not religious. Being at Hari ki Pari felt like a huge wave of spirituality came and swept me away. It didn't matter what you believed in or if you believed in anything at all. One thing was constant for everyone there. You could feel the energy whirling around you. I am still in awe that people participate in that ceremony every night. There is a very special unity and tradition about it. That night was when I really fell in love with India.
Seeing something so drastically different than what I am used to made me rethink a lot about what is important to me. I appreciate so much of what I have at home, but I also envy a lot of what India has. I have everything I could possibly need, but I am not as happy as the people I met in India. I feel very fortunate to live in a place without the poverty and corruption of other places around the world but I am starting to see on a more basic level where my priorities should be. India opened my eyes to the fact that living in America, I am so cut off from the rest of the world. It's easy to hear about India from a far, but to actually be in it is a completely different story.
Lindsey Colton