Today we went over the Learning Journey Rubric. After we worked on the rubric, we began formulating questions for the Desmond Tutu interview. We came up with many interesting questions but most of them still need to be reworded. We want to get the language just right. I can't believe that we only have four more days until the interview. I am becoming more nervous as the day gets closer. My biggest fear is that we will sound stupid in front of the Archbishop.
-Mari Fox
---
I never expected South Africa to be such a beautiful country. We have spent the past few days on Dawie's farm, two hours outside of Cape Town. The farm is on a hill that slopes down to a seasonal estuary. Standing on top of the hill you get a panoramic view of the Indian Ocean and the nearby towns of Stanford and Hermanus.
One of the amazing things about this place is that it is completely off the grid. They only use solar energy and supply their own water from an underground river. I am surprised at how easy it seems to live this way. They eliminated all non-native species of vegetation and build only in the spaces where those species had been. Because of this, the huts at Gecko Bush Camp are all closely surrounded by trees and connected by small wooden paths.
The owners of See-Eike Farm have set aside certain weekends to invite less privileged children from the nearby townships to spend time in nature. Having seen how many people live in townships, I can only imagine what the opportunity means to them. Pat, another man who shares ownership of the farm, told us stories about having to pull the kids out of the showers because they had never had access to a shower before. He said that many children horde food during their first few meals because they are not used to having enough to go around. These stories make me realize how much I take for granted.
-Camille Schwartz
---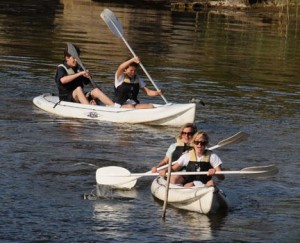 Kayaking
I went kayaking for the first time today. It was refreshing and fun. Dawie and Pat, one of the camp leaders and caretakers of See-Eike farm, led us along a jungle-like trail to the estuary. They taught us about the flora and fauna along the way. The trail was a narrow path surrounded by jungle, vines, bamboo shoots, caves, and milkwood trees. The end of the path opened up to a secluded grassy bank on the edge of the lagoon. In the distance there were beautiful mountains, green and glowing.
Pat proceeded to take us to the Gecko Bush Camp, an amazing group of buildings made entirely of bamboo and other various non-native woods. It resembled a giant tree house with small wooden pathways linking everything together. The Gecko Bush Camp is a nature camp mostly catering to children from townships and squatter camps. It is a place where these children can get away from the realities of their everyday lives and experience the natural beauty of their surroundings. They are taught team building, survival activities, and life-values.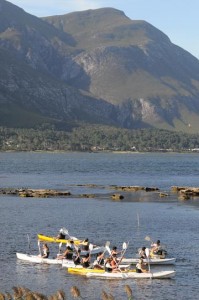 Kayaks and a View
After our time at Gecko Bush Camp, Pat handed us lifejackets and paddles and directed us to the water where he got us settled into our kayaks. The water was warm and extremely salty.
-Leah Nascimento
---
Haley and I got in our kayaks and paddled through the marsh weeds to get into the open lagoon. Pat directed us to race our kayaks around the buoys and back to him. Haley and I came in last so Pat rearranged the teams to make them more even. After a few more races we put away the equipment and headed back to the houses.
-Mari Fox